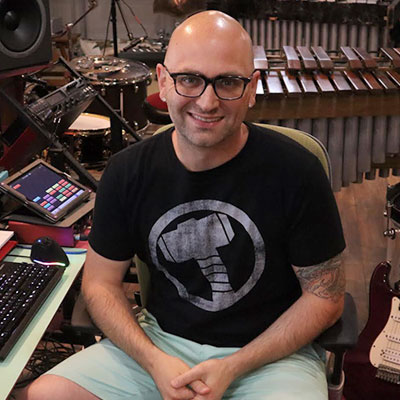 COMPOSER & SOUND DESIGNER
Thor Bremer is a composer, sound designer and performer who specializes in sound and music for interactive media. Thor's work can be heard in projects with Serial Lab, Outlier Studios, Epix Productions, Score A Score, Output, and more. He has designed music and sound for use in advertisements, trailers, commercials, video games, and virtual instruments.
Thor is also an in-demand drummer and percussionist throughout the Chicagoland area. He has played drums for such artists as: Chase, Steve Edwards Orchestra, 1976, Animal Farm, The Dennis Keith Experience, Guitarola, and more. He is also the director and composer for the chamber group Nine Worlds Ensemble, in which he plays marimba and vibraphone. He is also co-manager of Fretless Music, LLC, and performs on marimba in various ensembles in the organization.
Thor received his MFA in Game Music and Audio from ThinkSpace at the University of Chichester, and his BA in Music from UW-Milwaukee, with a focus on percussion performance. He formerly was a Senior Show Director and Lead Percussion Instructor at School of Rock-Oak Park.
When he isn't working on music or sounds Thor enjoys finding adventure with his wife Sly and their three cats, getting tattoos, making paintings, collecting Thor statues, cooking, meditating, playing games or building something random in his house.